Drug information websites need to get trustworthy, detailed, up-to-date information about drug and medicine, package inserts, and drug-related information. All of these drug information websites provide drugs and medicines information that you can use only for knowledge. Always consult with your physician or pharmacist before making any alterations to your prescribed medications. A list of the best drug information websites is given below (Don't consider this numeral system as rank):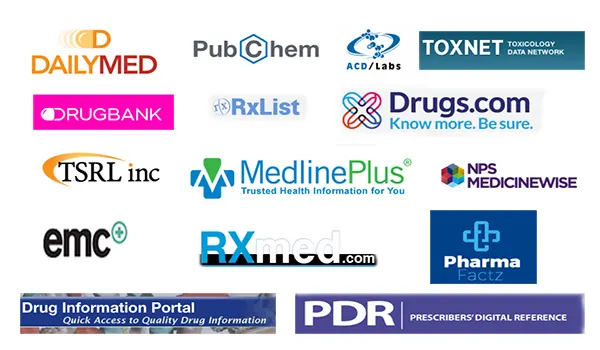 1. eMC (Electronic Medicine Compendium)
The electronic Medicines Compendium (eMC) contains the easily accessible, trustworthy, and latest information about medicines licensed for use in the United Kingdom. All the medicine information comes straight from pharmaceutical companies and has been checked and approved by either the Medicines and Healthcare Products Regulatory Agency (MHRA) or the European Medicines Agency (EMA). eMC permits searching and viewing medicine information without registration. eMC contains:
Summaries of Product Characteristics (known as SPCs or SmPCs)
Patient Information Leaflets (known as PILs, Package Leaflets or PLs)
Product Information
Risk Minimisation Materials (RMMs)
Letters to healthcare professionals
Live Chat
Audio/Video
Safety Alerts
2. DailyMed
DailyMed contains standard, detailed, up-to-date information about marketed drugs, medication content and labeling found in medication package inserts. This drug information website is the official provider of FDA package inserts (label information).
3. DrugBank
The DrugBank database contains trustworthy, freely accessible, detailed drug data (i.e. chemical, pharmacological and pharmaceutical) with comprehensive drug target (i.e. sequence, structure, and pathway) information. This drug information website is exclusive cheminformatics and bioinformatics resource. DrugBank contains information about drugs in Canada and the U.S.
4. RxList
RxList is an online medical resource that contains detailed and up-to-date pharmaceutical information on generic and brand drugs. This drug information website is the premier online Drug Index resource. In 1995, it has been founded by pharmacists and then owned and operated by WebMD.
5. Drugs.com
This drug information website contains independent, up-to-date and comprehensive drugs and related health information. Its Drug Information Database is powered by four independent leading medical-information suppliers: American Society of Health-System Pharmacists, Wolters Kluwer Health, Cerner Multum and IBM Watson Micromedex. Also, it publishes health content from other sources such as Harvard Health Publications, Mayo Clinic, Animalytics. The Drugs.com website is owned and maintained by the Drugsite Trust.
Drug Information Portal gives users a gateway to selected drug information, leaflet, clinical trials, and toxicological studies data etc. from the U.S. National Library of Medicine and other key U.S. Government agencies.
7. PubChem
PubChem is an open chemical information resource for scientists, students, and the general public. It is a chemistry database at the National Institutes of Health (NIH) of the U.S. It mostly contains chemical structures, identifiers, physical and chemical properties, biological activities and toxicity data of small molecules, but also larger molecules such as carbohydrates, nucleotides, peptides, lipids, and chemically-modified macromolecules.
Toxicology Data Network is a cluster of databases containing information related to chemicals and drugs, diseases and the environment, environmental health, occupational safety and health, poisoning, risk assessment and regulations, and toxicology. This drug information website is operated by the TEHIP (Toxicology and Environmental Health Information Program) in the Division of Specialized Information Services (SIS) of the National Library of Medicine (NLM).
Rxmed.com contains authoritative, trustworthy, and comprehensive information on common illnesses, information about either prescription or over-the-counter drugs, and different herbal and dietary supplements. This drug information website contains:
MedlinePlus is the website of the National Institutes of Health. This drug information website contains trustworthy, latest drug and supplement information. Also, contains information about diseases, conditions, and wellness.
This drug information website is an online resource on the pharmacology of drugs and medicines for students and professionals of pharmacy, medicine, nursing, and dentistry.
12. TSRL, inc (Therapeutic Systems Research Laboratories)
This drug information website mainly contains biopharmaceutical classifications of most drugs.
It provides free downloadable software for knowing the variety of ADME properties, physicochemical properties, and toxicity endpoints etc. It develops and commercializes software for scientists working with small molecules in chemical, biochemical, and pharmaceutical Research and Development.
14. National Prescribing Service (NPS)
This is an independent and non-profitable website that provides information about medicines, medical tests and other health technologies for all Australians.
PDR provides trustworthy health knowledge about products and services that support prescribing decisions and patient adherence to improve health. The PDR is to be used only as a reference aid and it's updated annually.
Read: List of Pharmacopoeia